Flood Warning
The following area is affected:
The Flood Warning Continues For The Following Rivers In Kansas
The Crooked Creek Near Englewood Affecting Meade County.
. Minor Flooding Continues Along He Crooked Creek Today. The River Is Forecast To Fall
Below Flood Stage This Evening.
Precautionary/preparedness Actions
Safety Message
Do Not Drive Through Flowing Water Or Go Around Barricades. Nearly
Half Of All Flood Fatalities Are Vehicle Related.
Flood Warning
The following area is affected:
The Flood Warning Continues For
The Neosho River Near Neosho Rapids.
- Until Sunday Evening.
- At 8:30 Am Saturday The Stage Was 23.9 Feet.
- Flood Stage Is 22.0 Feet.
- Moderate Flooding Is Occurring And Moderate Flooding Is Forecast.
- Forecast The River Will Continue To Fall To Below Flood Stage By
Sunday Morning.
- Impact At 23.0 Feet Water Overtops Road 145 On The West Side Of
The Bridge Over The Neosho River.
Areal Flood Warning
The following areas are affected:
The National Weather Service In Wichita Has Extended The
- Flood Warning For
North Central Reno County In South Central Kansas
Rice County In Central Kansas
- Until 945 Am Cdt Sunday
- At 938 Am Cdt Emergency Management Reported Numerous County Road
Closures Across The Area.
- Some Locations That Will Experience Flooding Include
Lyons Sterling Nickerson Little River Chase Bushton
Geneseo Alden Raymond Willowbrook Frederick And Silica.
Precautionary/preparedness Actions
Excessive Runoff From Heavy Rainfall Will Cause Flooding Of Small
Creeks And Streams As Well As Farm And Country Roads. Do Not
Attempt To Travel Across Flooded Roads. Find Alternate Routes.
Do Not Drive Your Vehicle Into Areas Where The Water Covers The
Roadway. The Water Depth May Be Too Great To Allow Your Car To Cross
Safely. Move To Higher Ground.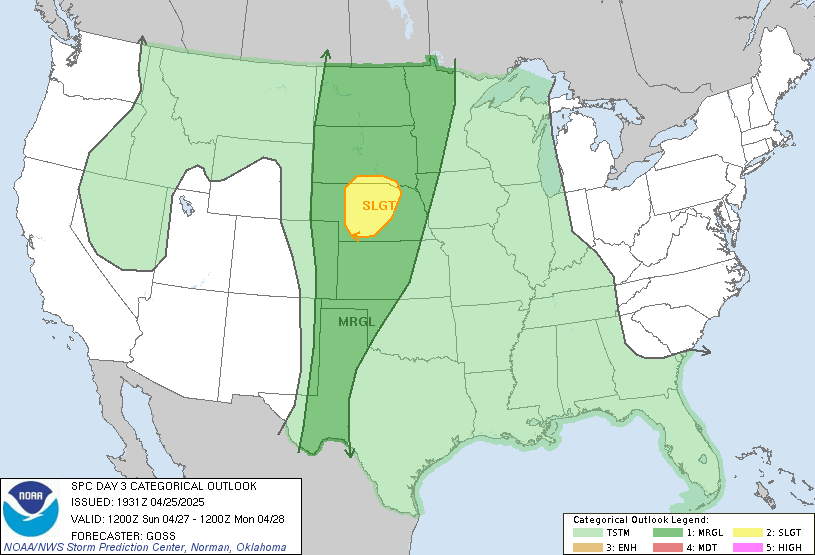 Alerts
Interactive Alerts
Severe Outlook - Day 1
Severe Outlook - Day 2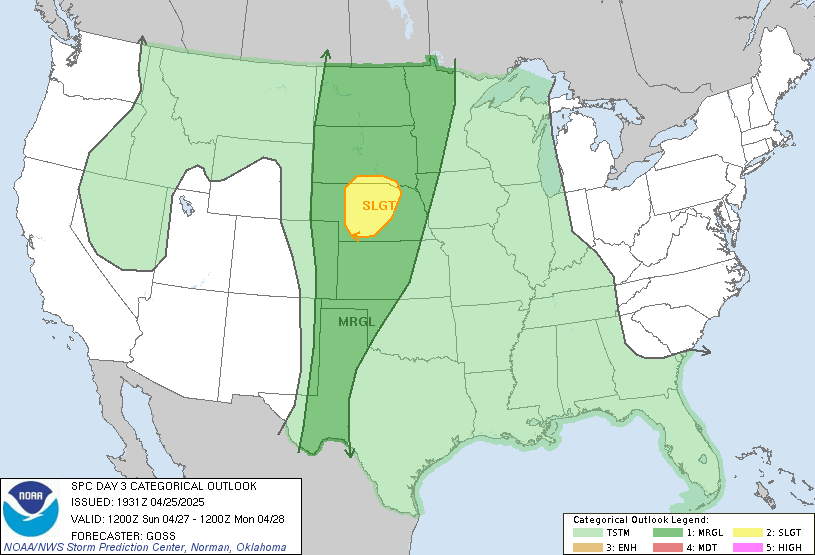 Severe Outlook - Day 3
Forecasts and Radar Around Kansas
Weather Sections